The grocers
Showing 1–40 of 81 results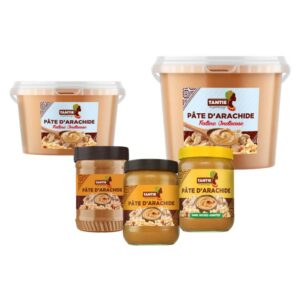 TANTIE Peanut Butter
Discover our new range of Tantie peanut butter, ideal for your traditional African dishes:
– Rigorously selected, finely ground peanuts.
– Made in France to guarantee quality.
– A wide variety of formats: 500 g glass or plastic jars, 2.5 kg and 4.5 kg buckets.
– 2 different textures for a variety of uses: cooking or spreading.
– A 500 g format with no added sugar and a recipe containing 100% peanuts.
Read More