Jasmine rice LOTUS
The Lotus rice owes its taste to its land of origin. It is harvest in the North-East of Thailand, this guaranties the Hom Mali's best quality. The Lotus Rice has been elected world's best jasmine rice during the International Conference of Rice in 2010.
Origin : Thailand
Packaging : 1, 5, 10 and 25kg
Related Products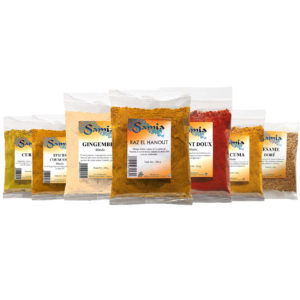 SAMIA spices
We offer a wide range of spices, most of them are available in the following formats : 100, 250 and 500g.
Don't hesitate to contact us to know the whole range.
Garlic powder
Cinnamon stick and powder
Cloves
Caraway powder
Colombo powder
Coriander powder
Whole cumin
Cumin powder
Ground turmeric
Curry powder
Spices for couscous
Mix of 4 spices
Bay leaves
Ginger powder
Molokheya powder
Mix of oriental spices
Nutmeg powder
Sweet red pepper powder
Hot red pepper powder
Whole hot red pepper
Whole black pepper
Black pepper powder
White pepper powder
Raz el hanout
Sesame
White sesame
Read More