Jasmine rice LOTUS
The Lotus rice owes its taste to its land of origin. It is harvest in the North-East of Thailand, this guaranties the Hom Mali's best quality. The Lotus Rice has been elected world's best jasmine rice during the International Conference of Rice in 2010.
Origin : Thailand
Packaging : 1, 5, 10 and 25kg
Related Products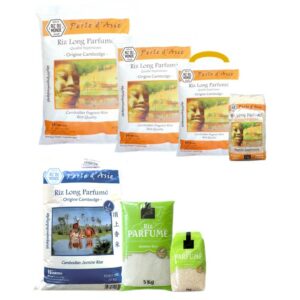 Jasmine rice PERLE D'ASIE Cambodia
We offer 3 different qualities of jasmine rice from Cambodia :
PERLE D'ASIE orange : long rice with a quality close to the Jasmine Rice from Thailand. We re-manufacture it in order to ensure the best quality. Packaging: 5 and 20 kg
PERLE D'ASIE purple : a quality specially adapted to a rice cooker. Packaging: 5 and 20kg
PERLE D'ASIE blue : an attractive price for a quality jasmine rice. Packaging: 1, 5 and 20kg.
Read More