Gunpowder green tea N°1
Green tea gunpowder is used for the preparation of the famous mint tea.
Native of Zhejiang region, it owes its name to its rolled leaves. Chinese also call it "tea pearls".
Related Products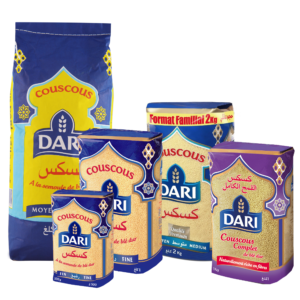 DARI couscous
Imported from Morocco, DARI couscous is considered as the best couscous on the market.
Wheat couscous : thin and medium. Packaging: 500g, 1kg, 5kg et 25kg
Whole couscous: naturally high in fiber. Packaging : 1kg
DARI Precooked barley semolina Al Belboula : couscous made of barley semolina rolled and precooked. Packaging : 1kg
Read More