Flour, starch and other.
Rice flour. Packaging : 1 and 25kg
Chickpea flour. Packaging 500g, 1 and 25kg
Barley flour. Packaging : 1, 5 and 25kg
Potato starch. Packaging : 500g, 5, 10 and 25kg
Pearl barley. Packaging : 500g and 25kg
Quinoa. Packaging: 500g
Additional information
| | |
| --- | --- |
| Activity area | The catering, Industrial, Grocery stores and supermarkets |
Related Products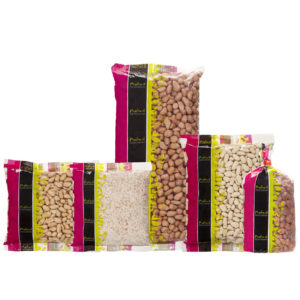 Peanuts
Roasted and salted blanched peanuts : eat as a snack, also used in Asian and African cuisine.
Peanuts powder : with skin, used in African cuisine
Blanched and shelled peanuts
Unshelled peanuts
Roasted and shelled peanuts : often used in Asian cuisine, fried in wok to add flavor to vegetables or chicken but also crushed in butter in order to make sauces.
Caramelized peanuts : sugar coated round peanut
Most of our peanuts are in 500g, 1, 5 and 25kg.
Do not hesitate to contact us to know the whole range.
Read More