Flour, starch and other.
Rice flour. Packaging : 1 and 25kg
Chickpea flour. Packaging 500g, 1 and 25kg
Barley flour. Packaging : 1, 5 and 25kg
Potato starch. Packaging : 500g, 5, 10 and 25kg
Pearl barley. Packaging : 500g and 25kg
Quinoa. Packaging: 500g
Additional information
| | |
| --- | --- |
| Activity area | The catering, Industrial, Grocery stores and supermarkets |
Related Products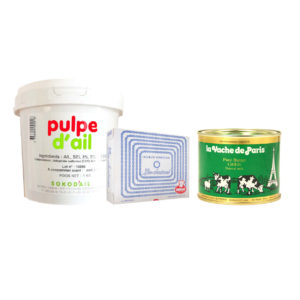 Culinary aids
Garlic pulp Soko d'ail 125g and 1kg : is used, like the fresh product, in all preparations where the garlic touch is desired (catering, ready-cooked dish, etc.)
Butter ghee La vache de Paris 400g and 800g : obtained from the concentration of milk fat from the cow. Doesn't burn during the cooking process.
Food coloring Les Chaines 25g.
Read More