Basmati rice PREMIUM
Riz du Monde has chosen the best quality of rice in India : the TRADITIONAL Quality long Basmati rice. More perfumed and thinner than classical Basmati rice, rigorous amateurs will be satisfied. Compared to the other varieties of rice, his lengthening is superior. After being cooked, its length and aroma will surprise you.
Origin: India/Pakistan
Packaging: 1kg
Additional information
| | |
| --- | --- |
| Activity area | The catering, Industrial, Grocery stores and supermarkets |
Related Products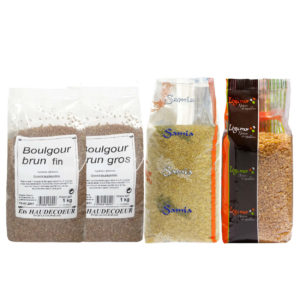 Bulgur and other wheats
Bulgur : It means cracked wheat. Thin, it is mostly used for traditional recipes such as tabbouleh or the Lebanese "kebbe". Thick bulgur is used as a side meal. Its shelf life is long lasting. Packaging : 1, 5 and 25kg.
Corn gruel "Dzedzaz" : is a grain which have been unshelled. Very soft, its after cooking texture reminds of risotto's, slightly creamy. Packaging : 1 and 25kg.
Whole grain "Hadig" : the grain's exterior envelop is removed which gives it a firm texture and slight savor of hazelnut. The preparation is the same as the rice. Packaging : 1kg.
Read More