ZAKIA HALAL
3 recipes rich in savory that will allow you to easily prepare a delicious meal.
Beef ravioli 800g
Chicken ravioli 800g
Bolognese sauce 400g
Additional information
| | |
| --- | --- |
| Activity area | Grocery stores and supermarkets |
Related Products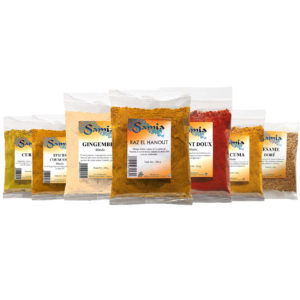 SAMIA spices
We offer a wide range of spices, most of them are available in the following formats : 100, 250 and 500g.
Don't hesitate to contact us to know the whole range.
Garlic powder
Cinnamon stick and powder
Cloves
Caraway powder
Colombo powder
Coriander powder
Whole cumin
Cumin powder
Ground turmeric
Curry powder
Spices for couscous
Mix of 4 spices
Bay leaves
Ginger powder
Molokheya powder
Mix of oriental spices
Nutmeg powder
Sweet red pepper powder
Hot red pepper powder
Whole hot red pepper
Whole black pepper
Black pepper powder
White pepper powder
Raz el hanout
Sesame
White sesame
Read More