Riz du monde
Showing all 10 results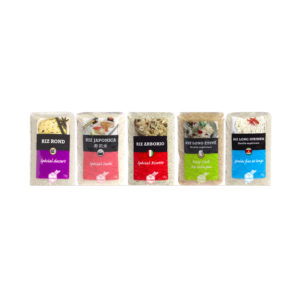 WHITE rice
Round rice : Round rice is a tender rice which, with its generous taste and melting texture, is perfect for deserts. Packaging: 1, 5 and 25 kg.
Sushi rice Japonica : Sushi rice Japonica is a tender rice which, once cooked, sticks in order to be eaten with chopsticks. It allows you to prepare authentic sushis and makis  in the pure Japanese tradition. Packaging: 1 and 10kg.
Arborio's rice for Risotto : Arborio rice is Italian. It is cultivated in the lands of Pô, in Lombardy. Its characteristics are to stay firm during  the cooking and to absorb the flavor of foods it is cooked with. This makes it an essential ingredient in the preparation of Risotto and paella. Packaging: 1kg.
Indica white rice : The Indica white rice is cultivated in the whole world. It responds to any consumers' expectations. Packaging: 5 and 20kg.
Surinam rice : Surinam rice owes its fame to the length and thinness of its grain. Imported from South America, it is appreciated by experts. Packaging: 1, 5 and 25kg.
Read More