Jasmine rice PERLE D'ASIE Cambodia
We offer 3 different qualities of jasmine rice from Cambodia :
PERLE D'ASIE orange : long rice with a quality close to the Jasmine Rice from Thailand. We re-manufacture it in order to ensure the best quality. Packaging: 5 and 20 kg
PERLE D'ASIE purple : a quality specially adapted to a rice cooker. Packaging: 5 and 20kg
PERLE D'ASIE blue : an attractive price for a quality jasmine rice. Packaging: 1, 5 and 20kg.
Additional information
| | |
| --- | --- |
| Activity area | The catering, Industrial, Grocery stores and supermarkets |
Related Products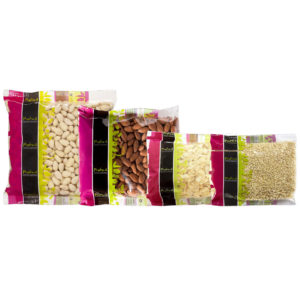 Almonds
Almonds
Whole blanched almonds : unshelled almonds, or peeled almonds. Often used in salted preparations (tagine, couscous), it can also be consumed as it is as a snack.
Natural shelled almonds : fruit from the almond tree covered with a light brown skin. Can be consumed as an appetizer or as a topping in salted meals (tagine, couscous, etc.)
Blanched diced almonds : diced almonds or crushed almonds are used in several oriental recipes, both sweet (pastries) and salted (pastilla).
Blanched Sliced Almonds : peeled almonds cut in thin slices. They are used as a topping in salted preparations (fish, chicken, couscous, tagine). Also used in pastries or as a decoration for some meals.
Almond powder
Roasted and salted almonds
Most of our almonds are in 250g, 400g, 800g and 1kg. Do not hesitate to contact us to know the whole range.
Read More