PARABOILED rice
Parboiled Rice is one of the most consumed rice in France, indeed it allows to preserve firm and detached grains after cooking. Packaging: 1, 5 and 25kg. We also offer a mix of parboiled rice and wild rice. Packaging: 5kg
We can realize any type of rice, cereals and vegetables mix.
Additional information
| | |
| --- | --- |
| Activity area | The catering, Industrial, Grocery stores and supermarkets |
Related Products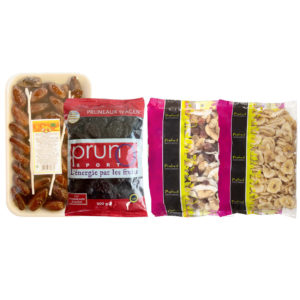 Other dried fruits
Dried apricot : whole fruit pitted then dried. Soft and tart flavor.
Pineapple cubes
Dehydrated Papayas Diced
Pine nuts : small seed from the pine. Used in the preparation of some desserts. Also used in order to accompany salads or in recipes such as pesto.
Banana chips
Exotic fruits mix : mix of 5 dehydrated exotic fruits deliciously sweetened
Nutmeg Date
Dried figs
Agen prunes
Most of our dried fruits are in 250g, 400g, 800g and 1kg. Do not hesitate to contact us to know the whole range.
Read More