Fava beans
Fava beans : Found in the French market either shelled or unshelled.
Peeled fava
Fava beans
Broken fava
Broad bean
The biggest size comes from Bolivia and is fleshy. China's fava is smaller.
Packaging: 500g, 1kg, 5kg and 25kg.
Additional information
| | |
| --- | --- |
| Activity area | The catering, Industrial, Grocery stores and supermarkets |
Related Products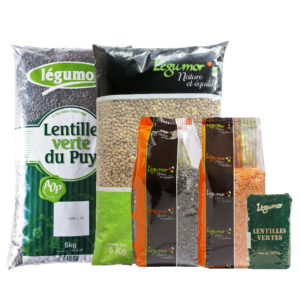 Lentils
Green lentil : from France and Canada.
"Du Puy" Green lentils : variety of lentils cultivated in Haute-Loire in France, and profits of an AOP (protected designation of Origin) since 1996. The first vegetable AOP.
Eston or Laird lentils : are the biggest, the lightest and thickest of lentils. Principally used in oriental cuisine.
Whole red lentils,
Football lentils : whole and unshelled.
Red Split lentils : are husked. Their cooking process is faster than the other varieties. Principally used in Indian or Turkish cuisine. Their flavor is slightly spicy.
Beluga lentils : naturally black, those small lentils owe their name to the resemblance with caviar beluga once cooked.
Packaging: 1, 5 and 25kg.
Read More