Split peas
Split peas has been used for a long time as a basic food, desired for their energetic value. They can be consumed in a soup or mashed.
Green split peas
Yellow split peas
Green peas
Val beans
Pigeon peas
Packaging: 500g, 1kg, 5kg and 25kg.
Additional information
| | |
| --- | --- |
| Activity area | The catering, Industrial, Grocery stores and supermarkets |
Related Products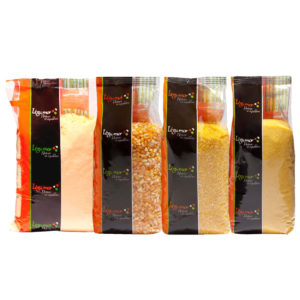 Corn and corn semolina
Hominy corn : broken corn. Packaging : 1 and 25kg
Haïti corn : broken corn in small pieces. Packaging : 1,5 and 25kg
Corn flour : can be mixed with traditional flours for the preparation of breads, cakes, etc. It can also be used to thicken sauces and creams and as a thickening in soups. Used alone, it will make corn galette (tortillas, millas, etc.). Yellow or White. Packaging : 1 and 25kg
Corn Semolina : obtained by degermed milling corn. It can be yellow or white depending on the variety of corn. It is used for polenta and many other preparations. Packaging : 1 and 25kg.
Read More